Today, I am participating in the "

2008

" Christmas tour with BooMama! I have taken some of my favorite decorations from my home..inside and out! I tried not to "feature" pictures that I have already posted
!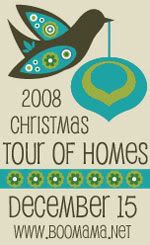 So come on in, wipe your feet....here is a cup of peppermint ice cream punch..don't forget the whip cream!
Welcome!